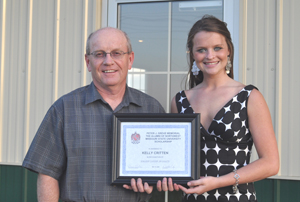 Alumni of Delta Nu Chapter of Tau Kappa Epsilon fraternity have awarded their 2009 scholarship in the amount of $1,000 to Gallatin (MO) High School senior Kelly Critten.
The Delta Nu alumni scholarship was established in 2007 by Peter J. Greve, who attended Northwest Missouri State University from 1970-74, and served as Delta Nu Chapter president in 1973-74. Greve, a native of Elk Horn, Ia., died March 21, 2009, after a six-month battled with cancer, but left behind his family and friends, and the TKE Scholarship Program as part of his legacy.
Candidates for the scholarship are required to enroll and attend Northwest Missouri State University and were nominated by a TKE alumnus. Along with a completed application, candidates were asked to submit two letters of recommendation, an official high school transcript, a list of school and community activities and short essay describing their high school experience.
Ms. Critten has been active in student council, where she served as president during her senior year. Other activities for her include: FFA, FBLA, FCCLA, yearbook staff, golf, varsity football cheerleading, basketball, track and National Honor Society.
Kelly, who is the daughter of Pam and Kevin Critten of Gallatin, plans to gain a degree in education.
Presenting the 2009 Peter J. Greve TKE Alumni Scholarship to Kelly is Dennis Cox, a 1977 NWMSU graduate and Delta Nu Chapter alumnus.